Stock Investing and Trading System
Access the HI-EPSRS database
See a six-month performance of our Top Picks
Stick to a game plan
Learn more about our service
Answers to commonly asked questions
Top Stock Picks Performance
Top Stock Picks Portfolio Comments
2017-04-27: Reduced holding in **** some more, nailing down profits at ****.
Current Stock Portfolio Positions: BE** (+43%), CO** (+9%), CH** (+9%), EV** (+6%), CS** (+2%), CD** (+1%), HC** (-1%), QS** (-1%),
Testimonials On Our Stock Picks
"I find your daily report very effective pointing out good day trades. I use a .25 stop loss and trade in 1000 share lots...Thanks for putting out such a cool and insightful publication. I can't imagine needing any more info than your report "...KF, California
Trading The Best Stock Picks Using Our Stock Investing and Trading System!
Growth Stock Analytics takes the fear out of stock investing by using our proprietary stock ranking system. Let our HI-EPSRSTM Stock Investing System be your premier source for research, trading and investing in the best high relative strength stocks: See for yourself what our stock investing portfolio looks like, what stocks we are buying and selling and why. Let us teach you how to improve your stock investing skills!
Invest In Our Top Stock Picks

Receive Our Hourly Stock Report

Our Top Stock Picks have strong fundamental and technical chart patterns.
We manage our stock investing portfolio with actual trades on the stocks that make our Top Stock Picks.

Receive hourly report of stocks surging in volume, breaking out of bases or making new highs.
Receive price and volume alerts on your stock investing portfolio.

Stock Screen Our Database

View Hundreds of Charts

GSA Rank
(0-99)

EPS Growth
(%)

Sales Growth
(%)

Accum.
Dist.

Base
Break.


Show Me Charts Per Page
Ordered By

Don't waste your effort screening the entire stock market.
Use our focused and timely screening database of stocks with high EPS and relative strength.

Flip through our weekly stock charts.
Look for consolidation and base breakouts.
HI-EPSRSTM Stock Investing System
Investing from a select group of nearly 1,000 stocks in the stock market is helpful. Our HI-EPSRSTM Stock Investing System focuses on these actionable stocks each day:


Entire Stock Market

Initial Stock Screener

HI-EPSRSTM Stock Investing

NYSE Stocks
NASDAQ Stocks
AMEX Stocks

-->

High Relative Strength
High Current Earnings
Near 52-wk Highs
Stock Price > $10

-->

GSA Stock Rank
Volume Leaders
Stock Breakouts!
Stock Market Direction
Stock Investing and more...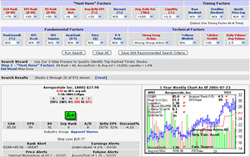 Our HI-EPSRSTM Stock Investing System is created from stocks that meet certain initial screening criteria. Each stock is ranked using our proprietary algorithm of about thirty fundamental and technical investing criteria. Only a handful of stocks make our Top Stock Picks list, which we trade with real money. Read our Stock Picks Q&A section to learn more about our stock investing service.

Join now, to improve your stock investing and stock picks. Remember, investing and trading in stocks takes time, effort and patience - we've done a lot of the work for you.

Note: Growth Stock Analytics, LLC is not a registered broker-dealer. Investors are encouraged to consult a registered stock broker or investment adviser before making any investing decisions.