Stock Investing and Trading System
Access the HI-EPSRS database
See a six-month performance of our Top Picks
Stick to a game plan
Learn more about our service
Answers to commonly asked questions
Top Stock Picks Portfolio Comments
2017-11-17: We exited our remaining position in **** at ****.
Current Stock Portfolio Positions: ER** (+23%), OK** (+2%),
Trading The Best Stock Picks Using Our Stock Investing and Trading System!
Let our HI-EPSRSTM Stock Investing System be your premier source for trading best high relative strength stocks for your portfolio:
Top Stock Picks. More than half of our stock picks have gone up 15% or more, while a quarter went up 50% or more! Past performance is not an indication of future investing results.

Stock Screening. Find stocks trading above $10, with high relative strength, less than 20% off their highs, ready to break out, and many more criteria.

Spot Changes In Industry Trends. Use our dynamic Industry Map to see which top 100 industries are worth investing into today.

Learn To Read Stock Charts. Improve your ability to read the best stock charts. See why the best profitable patterns keep repeating!
Use the Growth Stock Analytics Live Portfolio to follow our trades, knowing in advance what stocks we are buying/selling and when. Let us teach you how to improve your stock investing skills. Read our Stock Picks Q&A section to learn more about our stock investing service. Become a member now!
Invest In Our Top Stock Picks [Refresh]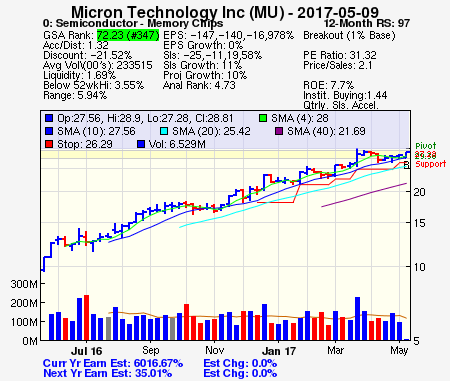 On May 9, 2017 we profiled Micron Technology Inc (MU) as a Top Stock Pick to our members at $28.38. Within a period of six months, MU rose to a high of $45.33, for a return at it's peak of 60%. See a full list of our stock picks here.
Testimonials On Our Stock Picks
"Dear customer service, My current subscription expires on 6-19. I would like uninterrupted service. How do I renew? The renew screen on the website looks like it is for new customers...Thank you."...JD, New Jersey