Stock Investing and Trading System
Top Stock Picks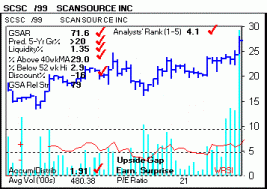 Online Trading
The world wide web has re-written the rules of online trading. Today, you can quickly perform research and analysis, enter stock trades and monitor your stock portfolio using the plethora of online trading tools by simply using a web browser. There are numerous web sites that provide stock data and charting, fundamental and technical studies, and analysis and comments for use by investors. Having been exposed to online trading for more than a decade now, we are certain that online trading is here to stay. Your stock broker's days are numbered. Let our service provide you with stock trading ideas that you can enter through an online trading discount broker. Don't be left behind - join the online trading game now!

Growth Stock Analytics offers stock market investors entry to our proprietary stock numbering system. Our HI-EPSRSTM Stock Database is a one-stop beginning for online trading, and research/investing in high relative strength stocks:
Receive our Top Stock Picks.
Do Stock Screening.
View Stock Chart Samples.
Look for Stock Breakouts.
Verify Fundamental and Technical Facts.
Scrutinize your Portfolio using Portfolio Alerts.
Online Trading, and more...

Testimonials

"...Please send me my password and anything else I need to log on. Thanks...P.S. I enjoy your service very much and plan on using it for a long time"...BC, Mass.
Join now, for online trading. Remember, all the work has been done for you.
Become A Member - Join Now!

The Web Counter welcomes you as visitor
since June 15, 1996.