Stock Investing and Trading System
Top Stock Picks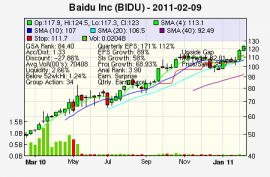 Stock Research
Growth Stock Analytics provides stock research that makes a difference. Our stock research encompases both fundamental and technical stock research criteria. After spending more than ten years fine tuning our stock research capabilities and reporting, we have presented to you a stock research tool that you can act upon and trade with confidence. The focal point of our stock research is to look at stocks exhibiting strong EPS growth and strong relative strength. We then look at other stock research criteria like accumulation/distribution, sales and earnings growth, debt/equity ratios, trading volume, etc. Approximately 30 relevant stock research criteria feed into our time-tested GSA stock rank, that we use for our own trading portfolio. Come, see how our stock research can benefit your stock trading.

Growth Stock Analytics presents stock market investors permission to our proprietary stock grading system. Our HI-EPSRSTM Stock Database is a one-stop source for stock research, and research/investing in high relative strength stocks:
Receive our Top Stock Picks.
Achieve Stock Screening.
Analyze Stock Chart Patterns.
Look for Stock Breakouts.
Corroborate Fundamental and Technical Statistics.
Scrutinize your Portfolio using Portfolio Warnings.
Stock Research, and more...

Testimonials

"Thanks for the explanation. I have been searching for a site such as yours for some time. I have used xxx, etc. I love being able to get as much information as I can in one stop like yours. Great Site, and I am looking forward to learning as much as I can. Thanks."...JK, Indiana
Join now, for stock research. Remember, all the work has been done for you.
Become A Member - Join Now!

The Web Counter welcomes you as visitor
since June 15, 1996.