Stock Investing and Trading System
Access the HI-EPSRS database
See a six-month performance of our Top Picks
Stick to a game plan
Learn more about our service
Answers to commonly asked questions
Top Stock Picks Performance
Top Stock Picks Portfolio Comments
2017-06-25: Friday, we exited our position in **** at ****, and are now 100% in cash.
Current Stock Portfolio Positions:
Testimonials On Our Stock Picks
"Thank you for making this change. Plugging this data into my Telechart and QuoteTracker watch lists will now be much easier. Your site makes the process of stock hunting so much easier. I can't imagine doing this without you. Actually, I can. Trying to find good stocks before using your data used to be difficult, sporadic, and inefficient...Your site is one of the best on the web for filtering through the megapieces of stock information. I appreciate all the work that goes into your work and hope you are very successful helping the rest of us arm wrestle the market."...TS, California
Past Top Stock Pick
Learn from these chart patterns. (Past performance does not guarantee future results)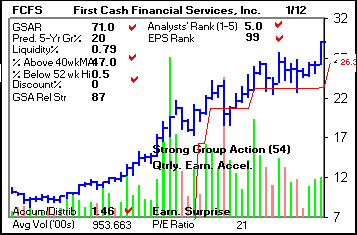 Up 30% from $19.31 (2004-01-13)
On January 13, 2004 we profiled First Cash Financial Services Inc (FCFS) as a Top Stock Pick to our members at $19.31. Within a period of six months, FCFS rose to a high of $25.03, for a return at it's peak of 30%. Obviously, one cannot sell exactly at the peak, but here is what we had observed about FCFS:
GSA Rank: 71 (Our proprietary ranking for FCFS using fundamental AND technical factors)
Accum/Dist Rank: 1.46 (Up vs. down volume action of FCFS taken over several weeks)
Projected Growth Rate: 20.00% (FCFS's projected 5-year growth rate)
Most importantly, FCFS was trading just 0.5% off it's 52-week high price, and had a breakout from a sideways price consolidation pattern, a clear signal to time our position. It is imperative to not only buy the best stocks that are fundamentally sound, but also to time your purchase correctly.