Stock Investing and Trading System
Access the HI-EPSRS database
See a six-month performance of our Top Picks
Stick to a game plan
Learn more about our service
Answers to commonly asked questions
Top Stock Picks Performance
Top Stock Picks Portfolio Comments
2017-08-05: Please note, that with so few names at low-risk entry points (e.g., ****or **** if it sets up correcly as a pullback buy), we are completely content to remain 100% in cash.
Current Stock Portfolio Positions:
Testimonials On Our Stock Picks
"..i like what i see on your site-lots of potential looking forward to participating"...JM, California
Past Top Stock Pick
Learn from these chart patterns. (Past performance does not guarantee future results)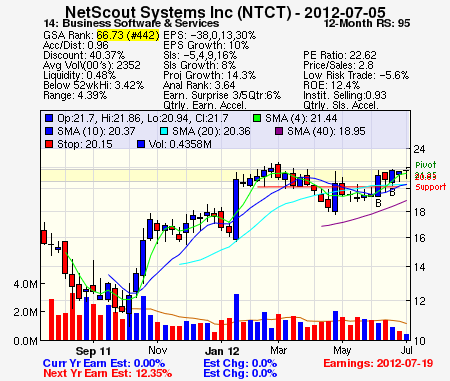 Up 24% from $21.85 (2012-07-05)
On July 5, 2012 we profiled NetScout Systems Inc (NTCT) as a Top Stock Pick to our members at $21.85. Within a period of six months, NTCT rose to a high of $27.01, for a return at it's peak of 24%. Obviously, one cannot sell exactly at the peak, but here is what we had observed about NTCT:
GSA Rank: 66.73 (Our proprietary ranking for NTCT using fundamental AND technical factors)
Accum/Dist Rank: 0.96 (Up vs. down volume action of NTCT taken over several weeks)
Industry Group Rank: 14 (NTCT was in an industry showing strong group action)
Projected Growth Rate: 14.30% (NTCT's projected 5-year growth rate)
Most importantly, NTCT was trading just 3.4% off it's 52-week high price, and had a breakout from a sideways price consolidation pattern, a clear signal to time our position. It is imperative to not only buy the best stocks that are fundamentally sound, but also to time your purchase correctly.