Stock Investing and Trading System
Access the HI-EPSRS database
See a six-month performance of our Top Picks
Stick to a game plan
Learn more about our service
Answers to commonly asked questions
Top Stock Picks Performance
Top Stock Picks Portfolio Comments
2017-08-05: Please note, that with so few names at low-risk entry points (e.g., ****or **** if it sets up correcly as a pullback buy), we are completely content to remain 100% in cash.
Current Stock Portfolio Positions:
Testimonials On Our Stock Picks
"Hello again, I wanted to thank you for your fast reply regarding my question, I'm around people that do momentum plays so I forget some of the basics. The first week I got your report NITE took off and PLCE went up steadily for the past 3 weeks, but my account to purchase stocks wasn't set up as of then so I just watched in amazement. I look forward to your report every week. Thanks again"...ED, California
Past Top Stock Pick
Learn from these chart patterns. (Past performance does not guarantee future results)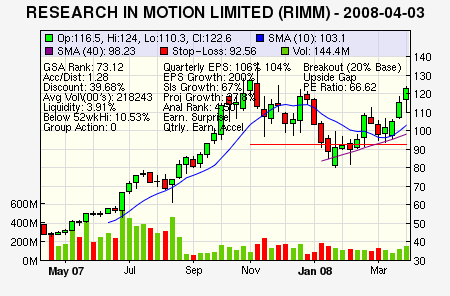 Up 21% from $122.58 (2008-04-04)
On April 4, 2008 we profiled RESEARCH IN MOTION LIMITED (RIMM) as a Top Stock Pick to our members at $122.58. Within a period of six months, RIMM rose to a high of $148.13, for a return at it's peak of 21%. Obviously, one cannot sell exactly at the peak, but here is what we had observed about RIMM:
GSA Rank: 73.12 (Our proprietary ranking for RIMM using fundamental AND technical factors)
Accum/Dist Rank: 1.28 (Up vs. down volume action of RIMM taken over several weeks)
Projected Growth Rate: 37.80% (RIMM's projected 5-year growth rate)
Most importantly, RIMM was trading just 10.5% off it's 52-week high price, and had a breakout from a sideways price consolidation pattern, a clear signal to time our position, as well had gapped up in price, another signal confirming upward price strength. It is imperative to not only buy the best stocks that are fundamentally sound, but also to time your purchase correctly.